Emotional Distress Damages Are Awarded for Injury to Family Pet: Dog, Cat and Horse Owners Are Vindicated!
Last Friday, in Plotnik v. Meihaus, the Court of Appeal recognized that under California law, pet owners may recover for "mental suffering" which is caused if another person intentionally injures or kills their animal. This is a case that we have been watching because of its impact on California horse law and the horse industry.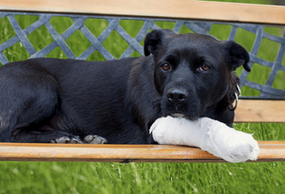 Among the cases cited by the court in upholding over $160,000 in damages and over $93,000 in attorney fees was the 2009 case of Jamgotchian v. Slender (2009) 170 Cal.App.4th 1384 in which a horse owner sued the track steward for trespass when the horse was injured in a race after the steward rejected the owner's request that the horse be scratched from the race. The court looked at the growing trend across the country allowing pet owners to recover for mental suffering caused by another's wrongful acts that result in injury or death of a beloved animal including the nightmarish Kentucky case, Burgess v. Taylor (2001) 44 S.W.3d 806 in which a lessor under a "feed lease" sold the leased horses for slaughter and then lied about it to the owner.

In Plotnik, two neighboring families had been at odds with each other for years. The Plotnik family introduced evidence that their neighbor, Meihaus had been harassing them in various ways for years but things "came to a head" when one day the Plotnik family's 12 inch miniature pinscher, Romeo, crossed over to the Meihaus' property. Mr. Plotnik heard Romeo barking and then heard he squeal. This was followed by the sight of Romeo rolling down the slope from the Meihaus' property through an open gate and hitting a tree. Mr. Plotnik went through the open gate and saw Meihaus holding a bat.
Romeo required $2,600 in surgery and a $209 stroller to get around in after the surgery. After a jury verdict the Plotniks ultimately were awarded over $160,000 in damages plus over $93,000 in attorney fees (in connection with violation of a previous restraining order.) In its analysis the court recognized that dog owners are "strongly attached" to their pets and their loss is "keenly felt." Although the court did not go as far as to allow damages for negligent infliction of emotional distress, it did find that the plaintiffs could be compensated for damages for the intentional acts of the defendants. The court reasoned that injury to Romeo was a "trespass" to property and allowed emotional distress damages arising from this trespass.
This case was decided by the California Court of Appeal, Fourth District, Division Three, an appellate court in which Adina T. Stern, a Professional Law Corporation, has successfully appeared on numerous occasions. We have represented clients in both federal and state appellate courts and have represented horse owners with their legal issues throughout California, including Agoura, Beverly Hills, Burbank, Calabasas, Chino, Cupertino, Del Mar, El Dorado, Fallbrook, La Canada, Lake View Terrace, Los Alamitos, Los Angeles, Malibu, Mission Viejo, Moorpark, Murrieta, Newhall, Newport Beach, Norco, Orange, Palos Verdes, Pomona, Ramona, Rancho Murieta, Rancho Santa Fe, Riverside, Rolling Hills, Sacramento, San Diego, San Luis Obispo, San Juan Capistrano, San Marcos, Santa Barbara, Santa Rosa, Santa Ynez, Somis, Sonoma, Sylmar, Temecula, Thermal, Ventura, Westlake Village, Woodside, and Yorba Linda.