Boilerplate: What Does the Fine Print Mean? Part 1 Choice of Law, Jurisdiction and Venue
The standard legal provisions that appear at the end of a contract are often called "boilerplate provisions." Although most people are not interested in the fine print of a contract, these provisions are important and because of the nuances in California law, it is important to understand why those provisions appear in your agreement. In fact, one of the biggest problem with online legal forms is that many of them have flawed or no standard legal provisions appropriate for California. The failure to include a critical provision can cost you tens of thousands of dollars in damages and legal fees if something goes wrong.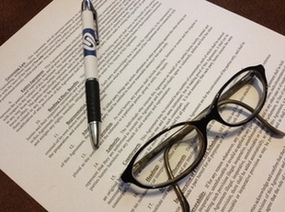 This is the first installment of a multi part blog that explains some of the more common provisions found in California agreements such as Choice of Law, Jurisdiction, and Venue. Before you sign any business contract, service contract, real estate agreement or other agreement whatsoever, it is important to have that agreement reviewed by an experienced business attorney who can make sure you understand and can live with all the provisions of the agreement. Indeed, as noted in a recent case, Ruiz v. Affinity Logistics Corp., even if the contract does include a choice of law provision, it does not necessarily mean that the provision is actually enforceable. There are many rules that go into determining if the clause, as drafted, will be upheld by a court.

Choice of Law. When contracts involve parties from different states or countries or if products are shipped to yet another location, it is not clear what law will apply to the situation. Laws vary considerably between states and countries. In California, Civil Code section 1646 governs choice of law. That section states that a contract should be interpreted according to the "law and usage" of the "place where it will be performed" or, if no place for performance is indicated, the place where the contract is "made."
In a modern world of electronic communications and commerce it is often not clear where a contract is made or where it is to be performed. This is why it is critical for the parties to agree in advance on which state or country's law will be used in interpreting the contract. Once this is agreed upon, the contract's choice of law provision will generally designate which laws are applicable. Without a choice of law provision, if there is a dispute over the contract thousands of dollars in attorney fees can be spent just on arguing which laws apply to the contract before the real issues in the case are even reached. Moreover, the application of one state or country's law over another can mean the difference between winning and losing your case.
Jurisdiction. Just because you have a choice of law provision using California law does not mean a lawsuit will be heard in California. Without a jurisdiction clause you still may have to hire an attorney in a different state or foreign country if you are sued there and fight a legal action in that state or country. It is critical that the jurisdiction clause clearly include a consent to personal jurisdiction and clearly designate what types of disputes will be subject to this jurisdiction. (See Global Packaging v. Superior Court) Additionally, there are two types of jurisdiction clauses, There are generally two types of jurisdiction clauses, non-exclusive jurisdiction clauses and exclusive jurisdiction clauses. A non-exclusive clause indicates where the parties may litigate where as the exclusive jurisdiction clause indicates where the parties must litigate. It is important to discuss these provisions with your attorney to determine what is right for you.
Venue. Jurisdiction refers to the authority of the court to hear your case, venue actually determines the location of the courthouse. Both of these need to be set forth in the contract. Just because a case is to be interpreted under California law in California does not regulate whether the case will be heard in Orange County or San Francisco County. If you want to make sure you are not spending a fortune on travel, you need to specify the venue as well as the jurisdiction.
Adina Stern has been preparing contracts and agreements for clients for nearly thirty years in and around Los Angeles County, Orange County, San Diego County and Riverside County and their surrounding areas, including Aliso Viejo, Beverly Hills, Burbank, Calabasas, Cathedral City, Chino, Corona, Coto de Caza, Del Mar, Irvine, Lake Forest, Long Beach, Malibu, Mission Viejo, Moorpark, Newport Beach, Oceanside, Palm Springs, Palm Desert, Palos Verdes, Rancho Santa Margarita, Riverside, Tustin, West Hollywood, and Westwood Village.
Related articles:
Boilerplate: What Does the Fine Print Mean? Part 2 Attorney Fee Provisions