Knowing Your Rights Regarding Residential Security Deposits – Part 1: Moving In
Each week we receive calls from landlords and tenants who need a real estate attorney to advise them regarding residential security deposits. Nearly every residential landlord requires that a tenant pay a security deposit before moving into a residential property. Even though security deposits are common place, it is surprising how many misconceptions both landlords and tenants have regarding California security deposit law. It is also important to understand that different laws apply regarding mobile homes, commercial properties, and boats. This is the first installment of a two part blog dealing only with laws that relate to residential properties. This part will deal with security deposit issues that arise at the beginning of a lease.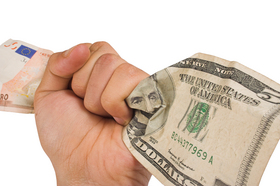 What Is Security? California Civil Code section 1950.5 defines "security" as any fee, payment, charge or deposit that is required by a landlord at the start of a tenancy for costs associated with the tenant that can be used to reimburse the landlord for any purpose (except for the application of a screening fee and consumer credit report prior to the time the lease is made.) No lease or agreement may ever categorize a "security" as nonrefundable.
How Much Can Be Charged For A Security Deposits? When a landlord requires a tenant to pay a security deposit, the amount of the security deposit cannot exceed the costs of two month's rent if the residential property is unfurnished and three month's rent if the residential property is furnished. There are some exceptions to this rule but they deal primarily with advance payments of rent when a lease is for more than six months. (Civil Code section 1950.5(c).) Just because a security deposit is given a different name such as "pet deposit" or "last month's rent" does not change the fact that it is a security deposit and must comply with the limits provided by law.

What is the Purpose of a Security Deposit? The purpose of a security deposit is to satisfy any lawful claim a landlord (lessor) has against the tenant (lessee) for such things as unpaid rent, repair of property damage, or cleaning. The security deposit cannot be used to repair normal wear and tear to the property. Additionally, the tenant is only liable for the reasonable costs of repairs or cleaning done to the property that are necessary to return the property to the same condition it was in before the tenant rented the property. Often disputes arise regarding the condition of the property at the time the tenant rented it. It is important for both the landlord and tenant to document with thorough photographs and a walk through agreement the exact condition of the property at the time it is rented and well as when it is vacated. The photographs and/or video taken should show all parts of the residence including the insides of cabinets, closets and rooms. If an appliance or system does not function properly at the beginning of the lease, that should be documented immediately.
It is very important for both the landlord and tenant to understand the laws regarding security deposits in order to avoid problems in the future. The second installment of this blog will deal with the issues that rise with security deposits at the end of the lease. Laws constantly change and it is prudent for a landlord or tenant to consult with a landlord/tenant lawyer before signing even a residential lease.
This is a brief summary of the law regarding security deposits. Adina T. Stern has dealt with residential leasing issues for over three decades. We advise clients throughout California on residential, commercial and industrial leasing issues including, Anaheim, Brentwood, Beverly Hills, Camarillo, Century City, Corona del Mar, Costa Mesa, Coto de Caza, Culver City, Foothill Ranch, Irvine, Laguna Hills, Laguna Beach, Los Angeles, Malibu, Mission Viejo, Newport Beach, North Hollywood, Riverside, Palm Desert, Palm Springs, Riverside, Somas, San Bernardino, San Diego, Studio City, and Temecula, West Hollywood, and Westwood.
Image Copyright (c) www.dreamstime.com